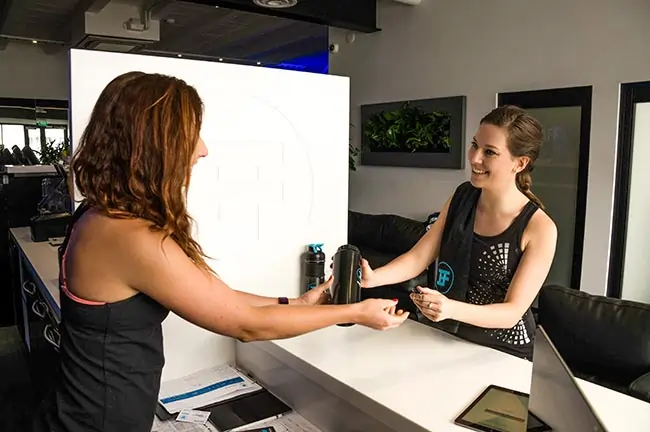 First impressions are everything. The initial interaction that any gym member has with their new facility can set the tone for how they perceive the business and use your club for the rest of the time they remain a member. As such, it's safe to assume there's no more important time to make them feel like they are a valued member of your brand community or to introduce them to all of your facility's amenities.
Encouraging them to use club features such as smoothie bars, personal trainers and fitness classes early on will break the ice and encourage them into using these in the future (increasing profitability for your business). A common way for fitness facilities to welcome a new member is through welcome packs or "goodie bags" filled with club swag, vouchers and invitations to classes or events.
This article is going to help you out with some helpful ideas and tips on how you can create the perfect gym welcome pack to give your members the BEST first impression of your club!
What should go in your gym welcome packs
For goodie bags, there are three things you need to ask yourself when adding new items: How is this item useful to the member? How is it going to positively benefit my brand? Long term, is it possible that including this item in our goodie bags is going to be profitable?
Each and every item needs to have a positive answer to the above questions before you even consider adding them to your goodie bags. It is VERY easy to go overboard and add unnecessary items to the bags which are likely to go unused and be thrown away by the member - potentially costing your business thousands which could have been spent elsewhere (or kept in your pocket!).
The purpose for you adding each item to your goodie bag should fall within one of these two categories: Brand Knowledge & Brand Awareness.
Items increasing brand knowledge improve how much your members know and understand your business and what it entails - for example, a member with a high level of brand knowledge will understand what your business stands for, what your goals are, and what offerings you have - e.g. trainers, classes, smoothies, equipment etc. In the context of your goodie bags, to increase brand knowledge, you want to include as much informative items that encourage trial and interaction with your club from members. A higher brand knowledge will increase profitability for your club, as well as the engagement of members as they will be more comfortable and familiar with your offerings and services - and therefore more likely to pay for them on top of their membership.
Brand awareness is important for getting new members in the door and ultimately increasing your club membership. This is done by increasing the reach and frequency of which your gym marketing or branding are shown to the public, which, in the context of goodie bag items, can be achieved through including as much USEFUL branded swag as possible in your bags so that members will use them in public around others.
Here's a few ideas you can use for each of these categories.
Items increasing brand knowledge
Items increasing brand awareness
Booklets about your business

Free smoothie voucher

Free personal trainer session

Free class concession

Club branded bag

Branded water bottle

Branded Key fob Lanyards

Window sticker for car parking

Free concession pass to bring a friend
Sourcing items for your gym welcome packs
When it comes to sourcing items to be used in your goodie bags there's really two key factors you should be considering, price and quality. Keeping costs down is obviously important for goodie bags, as they are essentially free gifts to members you do not want to be sinking large amounts of money into each one. Trying to keep costs down can easily lead to a decreased quality of the items included in your goodie bag, this should not be the case!
REMEMBER - these welcome bags are a contributing factor to the member's first impression of your club. If your branded bag falls apart right away, or the bottle you give members leaks, not only are they never going to be used (defeating the purpose of giving them out in the first place) but they are also going to have a negative effect upon the new client's perception of your club.
For trials and vouchers to use things within your club there is much lower risk, these are essentially free to hand out and won't cost your business much if they just get thrown away and never used by the member.
Choosing a supplier for freebies can be a tedious task, with the large amount of options given to businesses it can difficult to decide which is the best to purchase from. Alibaba or AliExpress are a good way to get in contact with Chinese manufacturers who can put your products together, but it's easy to get stuck with a large order of low quality items if you're not careful - so we recommend getting a few samples from each of the suppliers you are considering and putting them to the test.
The best way to test these is to give them to a handful of members you know well and ask them to use the items and give you feedback. The benefit of this is that you can get a real-world insight on how these items perform in use by a sample of REAL members, not just yourself, this is important because others will have different ways of using things, as well as different perceptions of their experiences.
Are you in the process of opening a new gym? check out our resource hub full of tips for gym owners starting their own club, or check out our guide to setting up membership pre-sales to secure income before your doors even open!