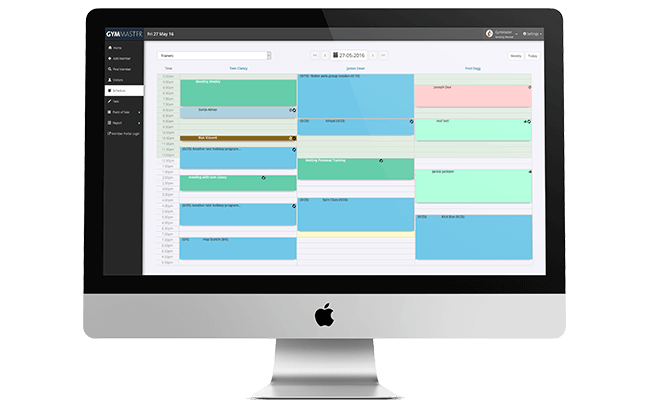 Online Booking
Give your members the flexibility to make online bookings for classes and PT sessions – wherever, whenever
Booking Software that Adapts to your Gym
Scheduling Management
Simplify your schedule with a color-coded screen that uncomplicates even the most complex timetables
Online Booking for Members
Fill your classes by giving your members the freedom to book directly from the GymMaster app or through your website
Online Booking for Staff
Book members in on any device, giving your trainers the power to get commitment right then and there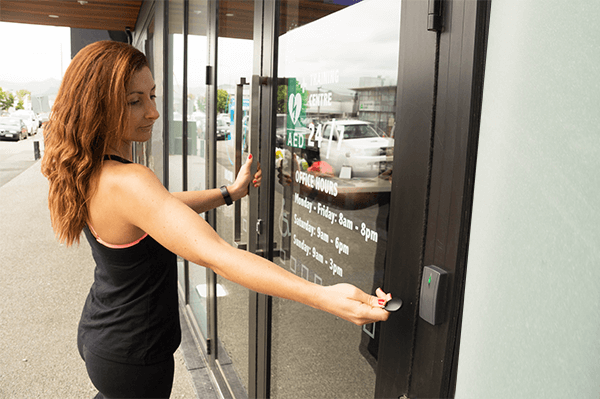 Booking Made Simple
No matter how simple or complex your scheduling is, GymMaster is flexible enough to make easy work of managing your calendar. Whether you have several trainers or a range of different facility types, setting up different classes, activities, one-on-one sessions, meetings or events are simple—however your business works.
Bookings within GymMaster work effectively for both large scale facilities with squash courts, pools & massage; as well as specialist fitness facilities such as yoga, crossfit, bouldering and dance.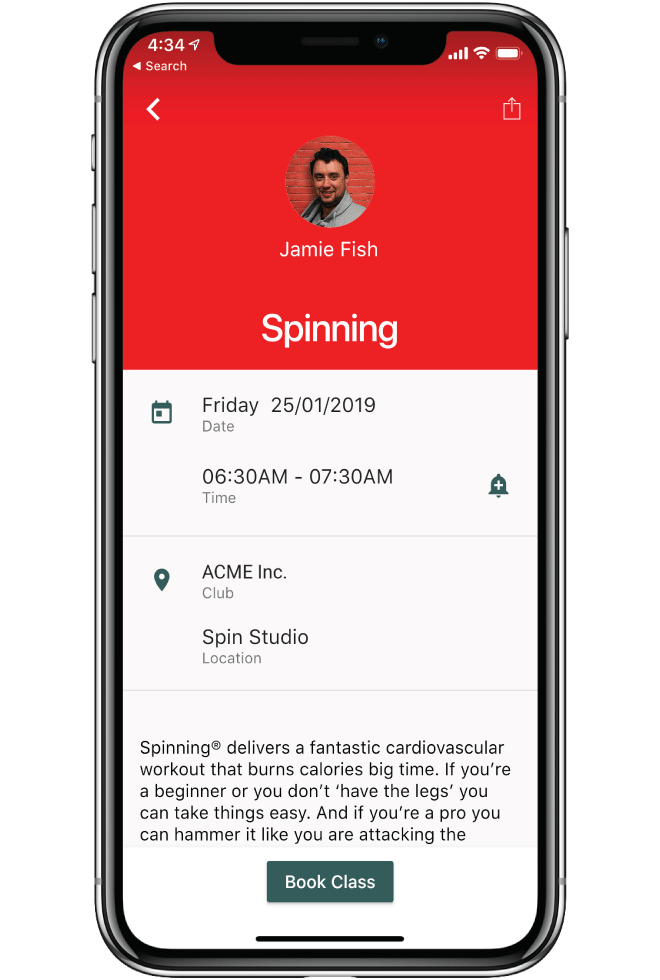 GymMaster Member App
Fill up your classes with GymMaster's member app, giving your members the chance to sign up at their convenience.
You'll have more people coming to your classes, as well as better visibility over managing your trainers and equipment.
The app lets your members:
View your timetable
Book a class
Book a service, such as a PT session
Cancel a booking
Update personal details
Join the waitlist for full classes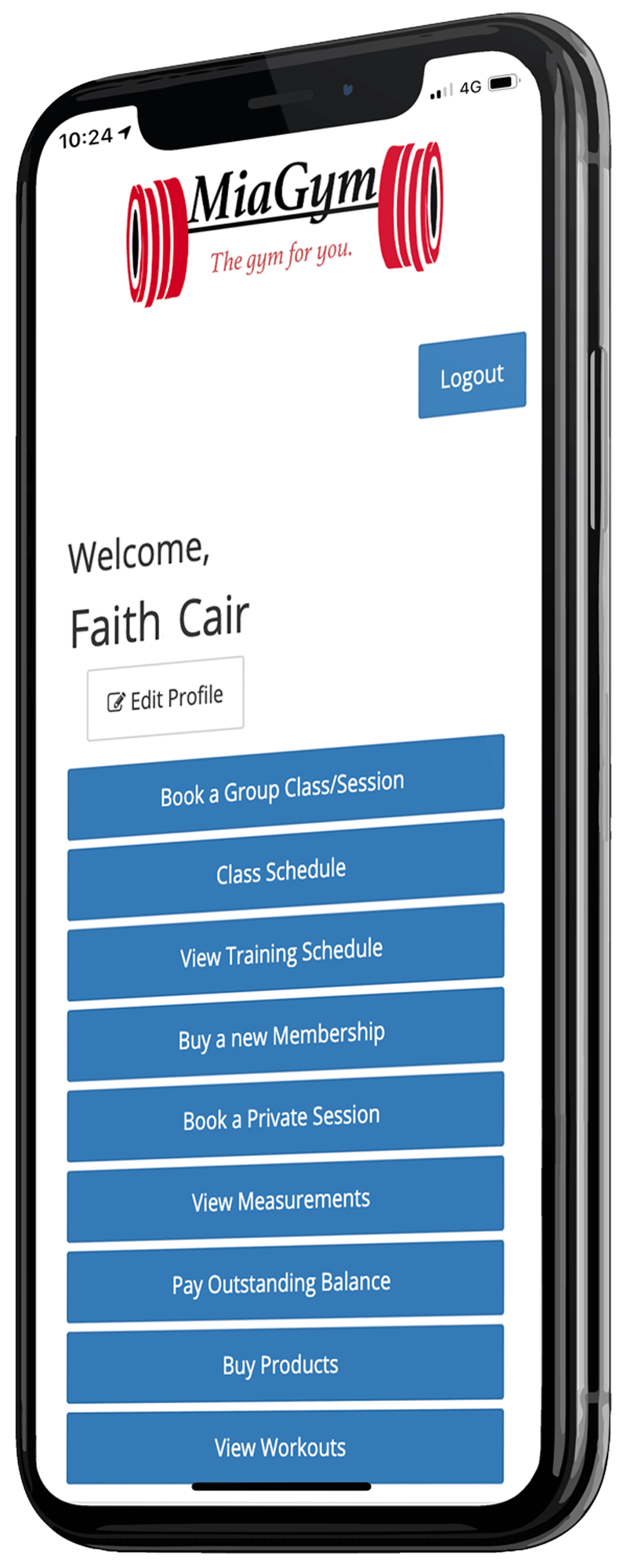 Online Member Portal
Offer your members more options with the member portal, which empowers them to do things that would normally require a front desk visit:
Renew their membership
Make payments on their account
Book and cancel class and service bookings
View their measurements, progress and fitness program
See if a class if full; and if so, go on the waiting list for cancellations
Say goodbye to no-shows
With every booking, your member will iCal or Google Calendar emailed to them, so they never miss another session.
Celebrate your own branding
With your own branding, the booking module is your own. It's totally embedded into your website, so your members don't need to download yet another app—they can access it from any browser, on any device, at any time that's convenient to them.
Maximize Your Profit
Maximize your revenue and member engagement by tracking attendance levels for different classes, allowing you to adjust and find the right mix of classes and instructors for your clientele
Collect payments upfront so that no-shows don't affect your bottom line
Offer flexible membership structures to increase use of your services, such as after hours access, limited free PT sessions, or a bonus class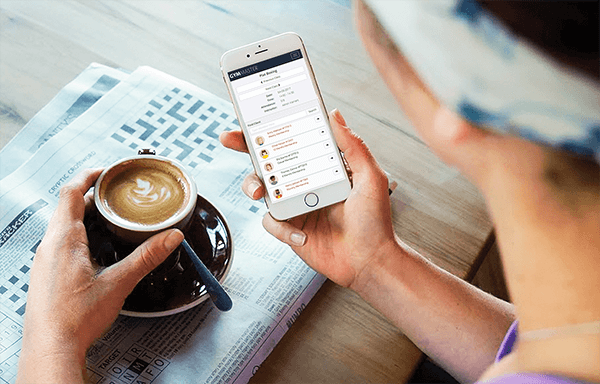 Simple Conveniences Increase Member Retention
Make it hard for your member to leave when it's so easy to book using the GymMaster app or online member portal
Send an auto push-notification or SMS to those affected by changes
Let your members add additional services to their regular billing cycle
Avoid over-booking by setting class attendee limits and advance booking timeframes
Your timetable auto-updates everywhere so it's never out of date
Manage your Staff Without the Headache
Your fitness staff will love being able to download their weekly timetable to iCal or Google Calendar
You can track your trainer's performance using customizable reports
Relieve your HR of work with staff hour tracking
GymMaster makes dealing with staff commissions a breeze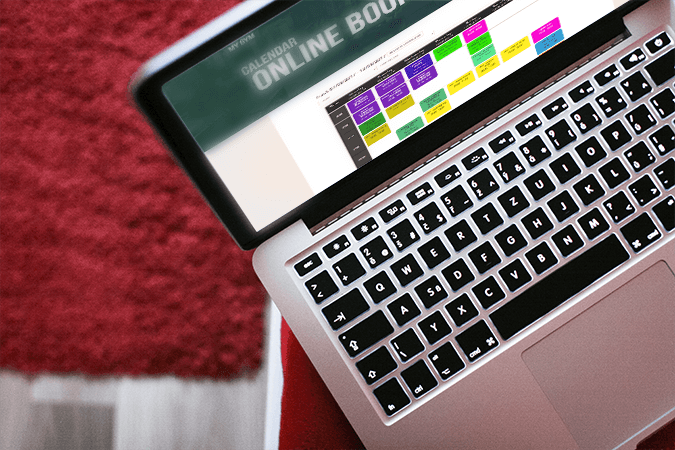 Live Updating Timetable
We've removed the hassle of having to change your website every time something changes. Trust that your timetable will always be correctly displayed for your clients with GymMaster's live updating timetable.
Intelligent Check-Ins
Members are automatically checked into their classes as they enter your facility using GymMaster's RFID key tags
Automatic Reminders
Remind members to renew their membership before they expire without lifting a finger
Smart User Access
User Access Rights give you the control over who has access to which settings and information
See What Our Customers Have To Say
"I carefully considered several companies before choosing GymMaster. GymMaster is by far the most comprehensive software I have been able to find. From billing all the way to the locks, it's all streamlined."
Zak Huffman
Warrior Fitness Facility
Ohio, USA
"The thing I love about GymMaster is the support staff. Always willing to help and nothing seems too much of a problem"
Marty Rees
Genetics Fitness Club
Australia
Previous
Next