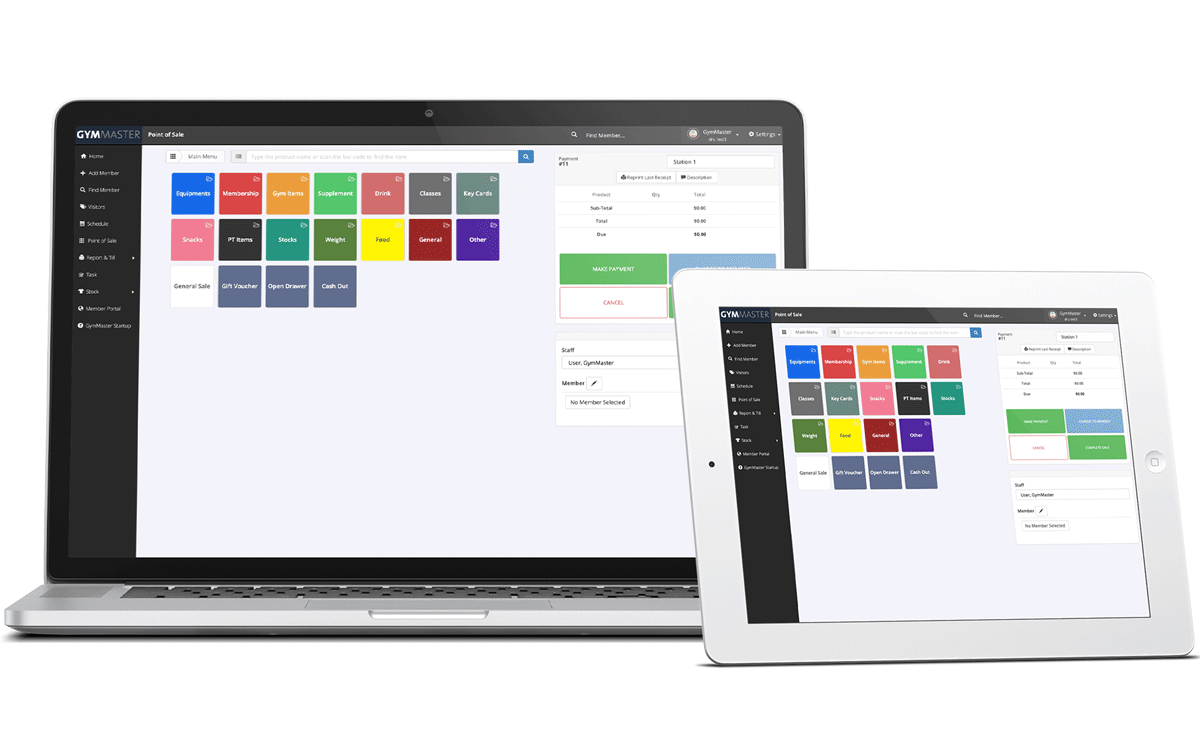 Point of Sale
Boost your bottom line with smart POS & tracking system that works on any device
GymMaster Point of Sale
As a business owner, you know that every dollar counts. Having a few items on hand to sell to your members can save them a headache if they forget their headphones or water bottle – as well as make you a few extra dollars. That's where a Point of Sale System that you can rely on comes in.
From hiring gear to selling merchandise, GymMaster's Point of Sale capabilities help you reach your profit goals.
"You can't beat the Customer Support. They are quick and always take care of any questions I have. With the integrated texting and e-mails to the customers, communication is quick. The software makes the gym run smooth and efficient with better control of the gym"
— Ken, Total Fitness, USA
POS on the move
Whether onsite or in the park running a boot camp session, you can make sales and collect payments from your members on the go. Using your phone or tablet, you can charge members for casual sessions, gear hire, or products no matter where you or your trainers are.
Flexible Payment Options
Your members are all different; and so are you. Whether they prefer to pay cash up front or have the charge added to their monthly billing cycle, it's easy to cater to your members' preferences – and your own – with GymMaster's Point of Sale. Some common payment types:
Credit Card Choose to bill your member's credit card tonight or on their usual billing cycle when their credit card information is saved (and encrypted) securely within GymMaster.
Put it on their tab Add the charge to your members' account for the payment to be added to their usual billing cycle whether it's ACH, Direct Debit or Credit Card.
Cash and card payments GymMaster works with a wide range of card processing hardware and cash tills.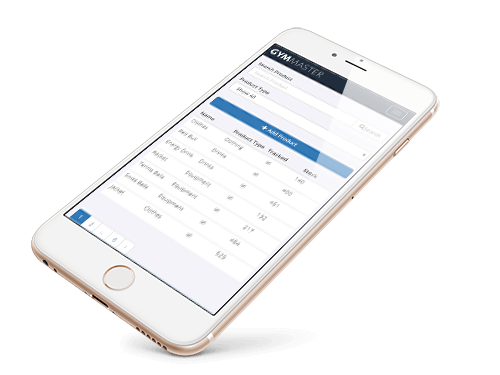 Keep on top of inventory
Tracking your inventory is an important part of your business. GymMaster's stocktake and sales reports help to detect errors and identify problem areas before they create larger issues.
Knowledge is power
Make informed decisions by keeping track of your sales, inventory and staff performance. Reporting that is easy to use, highly customizable, and downloadable to Microsoft Office, OpenOffice and some popular accounting software packages.
Customize your screen
Add a little color to your system with customizable categories and button colors.
Designed to work on any device, point of sale has never been such a pleasure to use.
Team up with hardware
Use on a tablet, phone, or computer. Attach a cash drawer, barcode scanner, or a receipt printer.
GymMaster's point of sale is compatible with a wide range of hardware options – talk to us today
See What Our Customers Have To Say
"I carefully considered several companies before choosing GymMaster. GymMaster is by far the most comprehensive software I have been able to find. From billing all the way to the locks, it's all streamlined."
Zak Huffman
Warrior Fitness Facility
Ohio, USA
"The thing I love about GymMaster is the support staff. Always willing to help and nothing seems too much of a problem"
Marty Rees
Genetics Fitness Club
Australia
Previous
Next