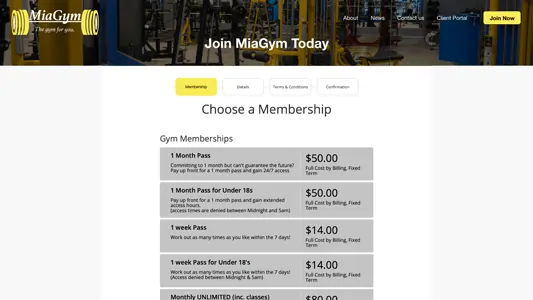 With the rise of internet technology, the ways in which businesses are marketing themselves to their audience has changed drastically, and gyms are no exception. Shifting from a focus on print, television and radio, more and more fitness clubs are now turning to setting up a gym website for getting their brand out there and in front of potential members.
Whether you are advertising on social media, google ads, online review platforms or your local online community noticeboard - the best practise is usually to provide a link to your website. While running ads to a website is a great way to inform potential customers of your brand and it's offerings, the goal is usually to encourage a visitor into taking the next step and becoming a member of your business. Providing contact information such as an email address or phone number is a step in the right direction, however these options still require a degree of effort from the user to proceed to the next stage in your sales funnel. The higher the effort which is required to progress from one stage to the next, the lower the chance of the visitor becoming a member.
This is why you should aim to reduce these potential sticking points, while maximizing the ability for the visitor to progress themselves through the stages without requiring interaction (a potential sticking point for someone who wants to sign up NOW).
This brings us to the topic of this article, allowing members to sign up to your club from your club's website without requiring ANY interaction from staff - the best way to eliminate sticking points during the sales process while removing in-club administrative work which would normally be carried out by staff.
Integrating your website with your gym management software is the best method for doing this. It might sound scary and technical, however, this process is actually very simple and can take mere minutes to complete with the help of a gym member portal. A member portal is a snippet of code added to a webpage which allows members to interact directly with your club management software in a number of ways - signing up, submitting enquiries and booking appointments or classes. 
It's actually very simple to create a sign up form on your website with a gym software system, it's as easy as copy and paste. Here's how you do it:
Step 1: Create the webpage
This is where the snippet of code will be added. Any additional content or styling you might like to add can also be added to this page.
Name it something appropriate, such as "Sign up" or "Join now" and be sure to link to this page prominently from your landing page and in your website's navigation.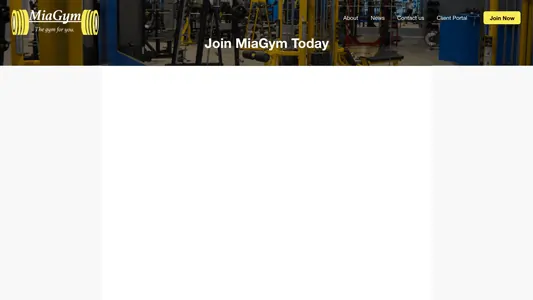 Step 2: Copy the member portal sign-up code from your club management software provider.
If you're a club running on GymMaster, click this link.
Copy the snippet under the "Member sign up page" heading.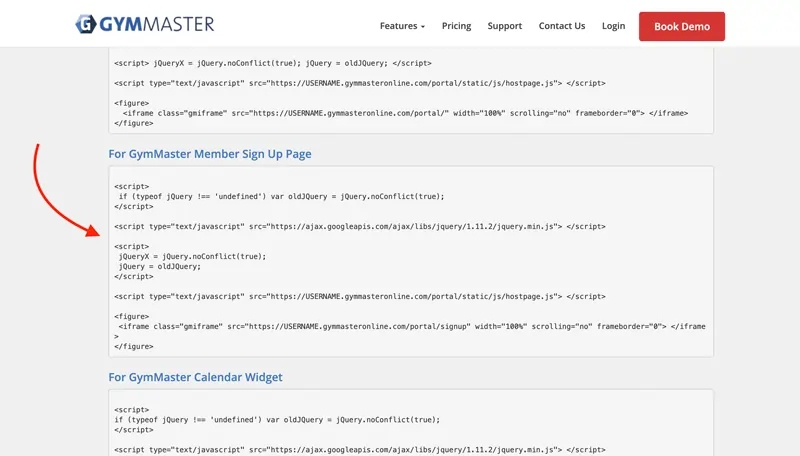 Step 3: Add the snippet of code to your webpage.
Find the appropriate section of your page.
Paste the snippet of code within the tags where you want it to be displayed. If your club uses a website builder - such as Squarespace, Wix or WordPress, scroll to the bottom of this page for a step-by-step instructional video to follow for these systems.
Change the two urls to match your club username as indicated by the arrows below.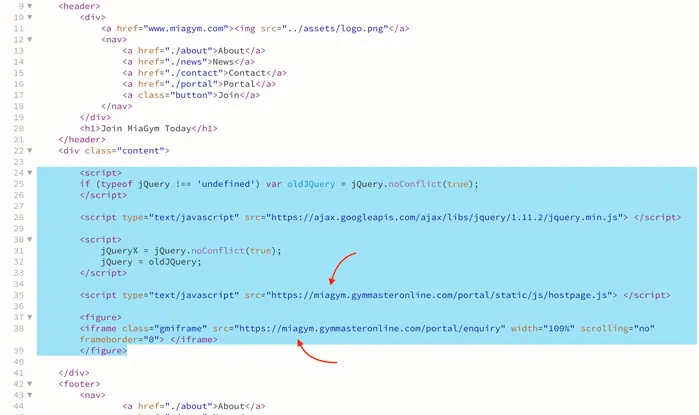 Then Click Save.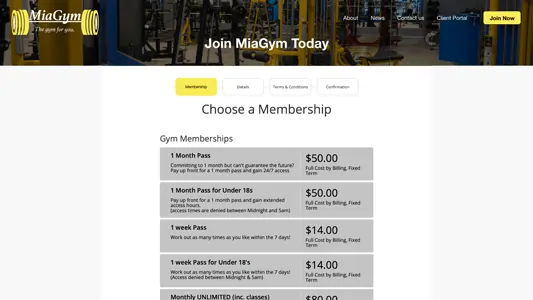 That's all there is to it.
Other than a sign up page, you can actually follow this same process for a number of interactive pages on your gym website. You can add your gym class timetable or trainer schedule, an enquiry form, or create a single login page where a member can do all of the above, and much more.