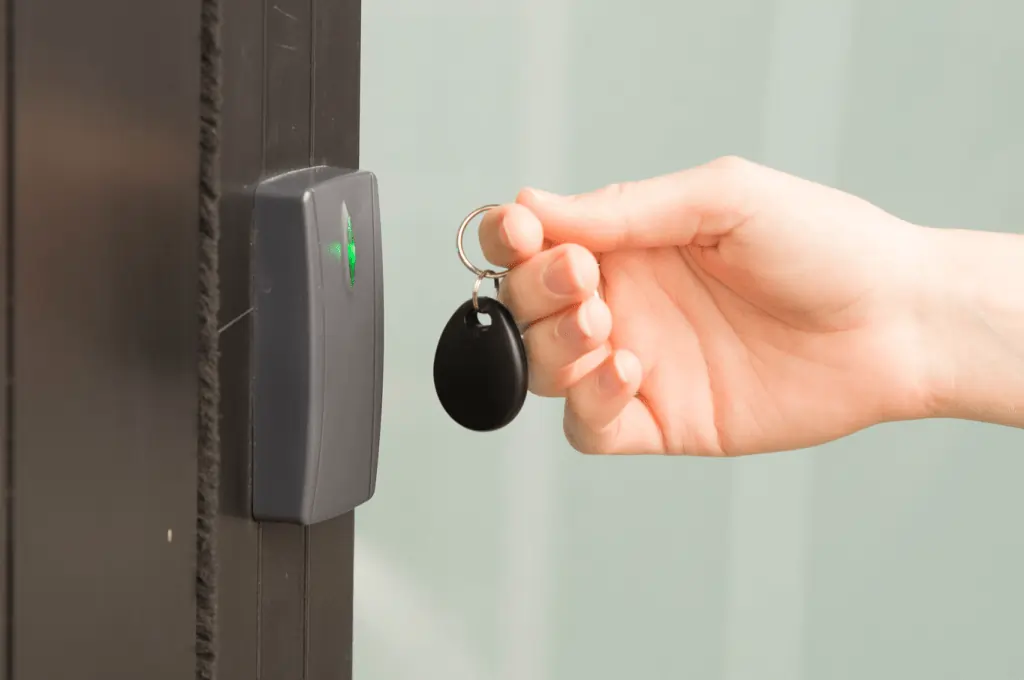 What is 24/7 door access control?
Chances are, if you are a gym owner or anyone familiar with the fitness industry, you have been aware of a 24 hour gym and how they operate. Whether it be through going for a workout or working in one, most gym members now will have experienced or heard from a friend about gyms that enable you to work out at any time of the day by swiping an access control key fob at the door to gain access to the club.
How access control gives fitness clubs a competitive advantage
To assess how an access control system offers gym businesses a competitive advantage, we can lean into business marketing research, looking at a reputable analysis model – the VRIS. This assesses the competitive advantage achieved through any business asset based upon four criteria - valuable, rarity, inimitability, and (un)substitutability. 
An access control system is valuable to your business because these allow you to keep your doors open for longer, eliminating unnecessary administrative work and reducing staffing hours and costs. Rarity, while there are thousands of 24 hour gyms out there, it is likely that not all gym businesses in your area are utilizing 24 hour gym access systems currently. 24 hour gym systems are not rare, however finding one which integrates seamlessly with your gym management system without the use of third party hardware is–getting a gym system which offers this can be a differentiator as it offers much more control over who can access your club and when. It is possible for competitors to imitate you if they see you gaining an advantage from implementing access control at your club. It is difficult to find a reliable substitute to an access control system if you are aiming to offer your members access to your club anytime without heightened security risk and expense to your club.
As outlined above, three of the four criteria are fulfilled by an access control system. This combination of elements gives us the indication that competitive advantage achieved by implementing an access system will be of a temporary nature. Therefore, while it does offer opportunity to grow your business, ideally, other points of difference should be utilized.
The benefits of utilizing a 24/7 gym access control system.
Keeping your doors open for longer.
The most obvious advantage of a gym system with 24/7 access control is being able to keep your doors open for longer. Better suiting the needs of your members by offering them the convenience of being able to work out at times which best fits their schedule. This flexibility means you can gain a larger number of members by being able to cater to people from many walks of life and occupations which may otherwise have been put off by your opening hours.
Complete control over who gets in
An innovative access control system linking with your gym software can also allow you to create your own set of rules which means your doors only open to individuals who you want inside your club. For example, you can limit access to specific areas to only certain members with these privileges, or even lock members out of your facility when they are in a specific amount of debt to your club. This brings us to the next benefit, peace of mind.
Peace of Mind
Knowing that only members who are allowed can access your facility brings a sense of reassurance to many gym owners and staff members. This means that you won't have to be as strict when policing the gym doors throughout the day, freeing frontline staff from the front desk to work on other tasks.
If you're concerned that they might be letting their friends in for free during unstaffed hours, you can implement a gym tailgating system which automatically detects non-members when entering your club and alerts staff of the security breach. 
Reducing administration and staffing costs
Not only will your staff no longer need to be actively manning the service desk to ensure that non-members aren't accessing your facility, but the amount of admin work required to run your gym can be greatly reduced with the right access control system.
A gym access system that integrates directly to your club management software allows you to do this automatically when they swipe their key fob as they enter the club. Eliminating the need for members to manually sign inwhen they arrive for a booking or scanning barcodes which are less reliable and easy to replicate.
How to decide upon the best door access control provider for your club
While there are many access control systems on the market, it is important that you take the time to find the platform which is the best fit for your club. Not all businesses are alike, the best-suited access system for one club may not be the best solution for use in another. This is why you want the system to fit the needs of your business. Most systems on the market are generic and are not tailored to one business over another, which means they serve many industries OK… but they may not provide the level of functionality you need.
For example, If you are running an office space your access requirements are going to be different to a hospital - the same goes for a gym. This is why it is important if you're a gym or health club that you find an access control system specifically designed for the fitness industry.