Free yourself from the front desk
with a user friendly all-in-1 gym management system
Reclaim your day and focus on what matters most by streamlining everything from door access to bookings, billing, memberships, sign ups and everything in between.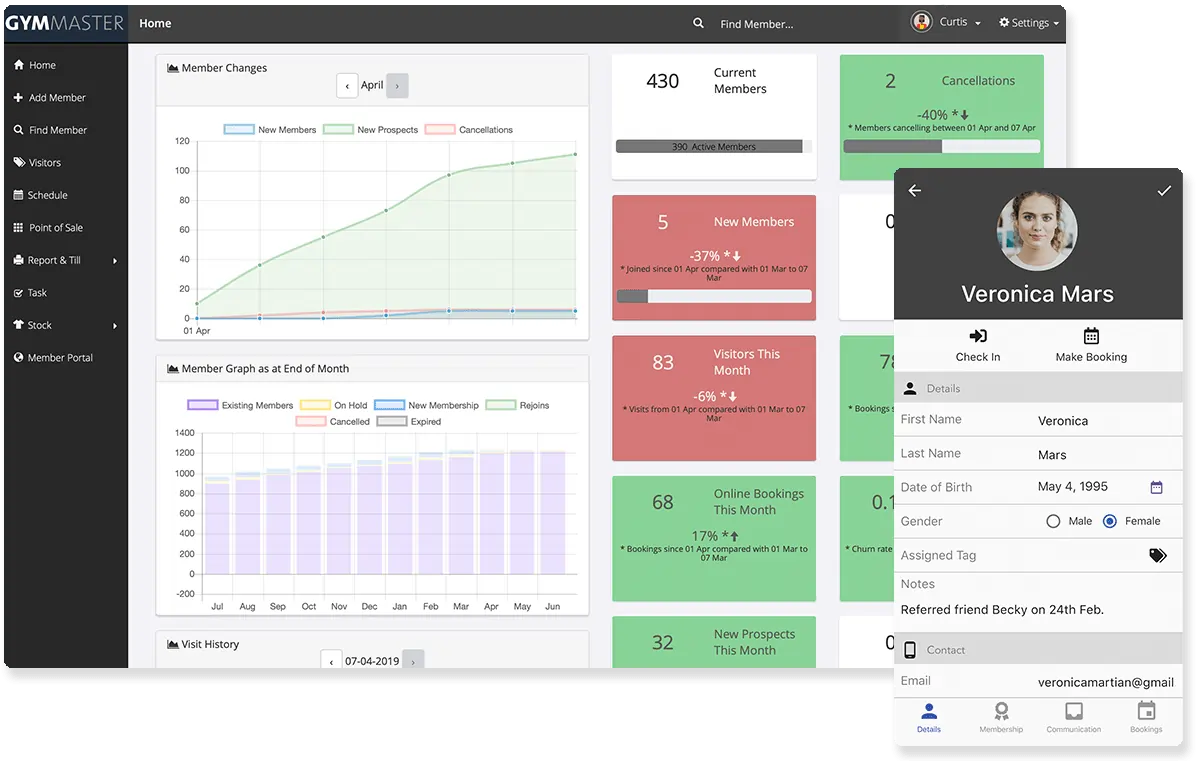 "I've had my gym open for 4 months now. GymMaster worked with me non stop prior to opening my doors to ensure a great opening day. Even better, they are always available when I need anything. The support is great!"
Joe Laxton, Joe's Gym, Iowa USA
All the important tools for growing your fitness business.
A comprehensive all-in-1 gym management toolkit, full of all the features a gym enterprise could ever need to grow and manage your day-to-day.
Gym Access Control
Open doors for your business & become a 24 hour gym. Control your doors from anywhere through your gym management software.
Automated Billing
Save time chasing member's fees with a simple, set-and-forget integrated billing and payment processing system.
Manage Bookings & Classes
Let members make bookings trainers and secure their spot in classes or other club resources from your online timetable.
Member App & Portal
Encourage member visitation and bookings with a branded mobile app and portal on your gym's website allowing online sign-ups and bookings.

KPIs & Club Reporting
Keep a virtual finger on the pulse of your gym. Make informed business decisions with real-time club performance data.

The new AI business insights integration provides valuable insights into a gym's business performance and helps identify new ideas and strategies to achieve their goals, leading to a competitive edge and the ability to reach new heights.
Point of Sale & Inventory
Sell products in-club or online while automatically tracking stock levels and your till-take, making for easy inventory management and taxes.
No Contract Periods. No Hidden Fees. 60 Day Money Back Guarantee.
Get Started

Total Flexibility, Enjoyed by Thousands of Clubs Across 90+ Countries.
GymMaster offers an unmatched level of control over your business operations.
Highly granular settings allow us to custom-tailor your gym system to the specific needs of your members, business model and management style like no other.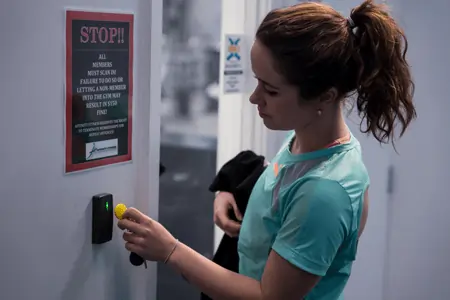 GYM ACCESS CONTROL
Control your doors with the only gym system designed specifically for the fitness industry.
Built from the ground-up with fitness clubs in mind, our highly configurable door access control system lets you manage entry to your 24 hour facility as you see fit.
Restrict access to your club or certain areas based on memberships, upcoming bookings, available credit, time of day–or a combination of these.
Gym tailgating detection system also available.
THE ONLY GYM MANAGEMENT SYSTEM OFFERING AI-POWERED COMMUNICATION
Impress your clients with next-level customer communication without burning hours on copywriting
Our AI integration makes it easy for gyms to handle their marketing and retention efforts. With the help of cutting-edge algorithms and integration with ChatGPT, you can generate custom emails, newsletters, contracts and more quickly and effectively.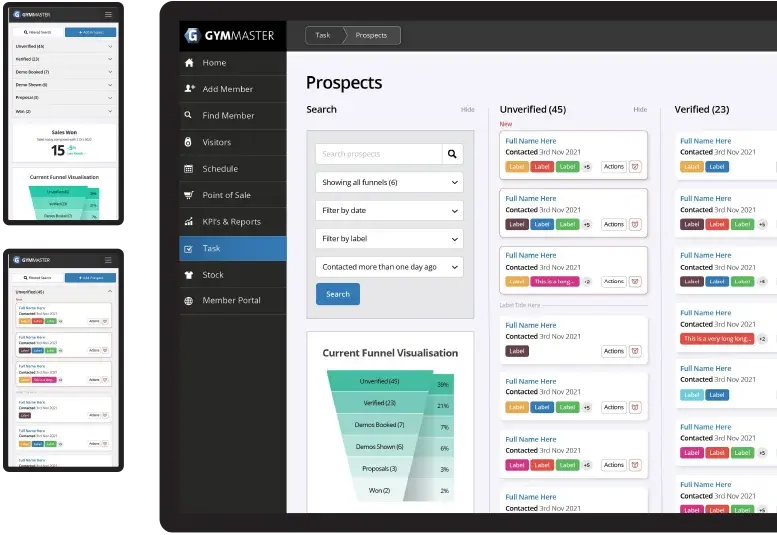 GYM LEADS FUNNEL MANAGEMENT AND SALES ENHANCEMENT TOOL
Bring in More Members and Keep Them Coming Back
Our innovative tool supports gym sales teams in their efforts to increase membership and enhance the member experience. With features such as lead management, personalized sales approaches, and progress tracking, sales teams can work more efficiently. The tool also allows gyms to offer personalized promotions and information to their members, resulting in stronger relationships and higher retention rates.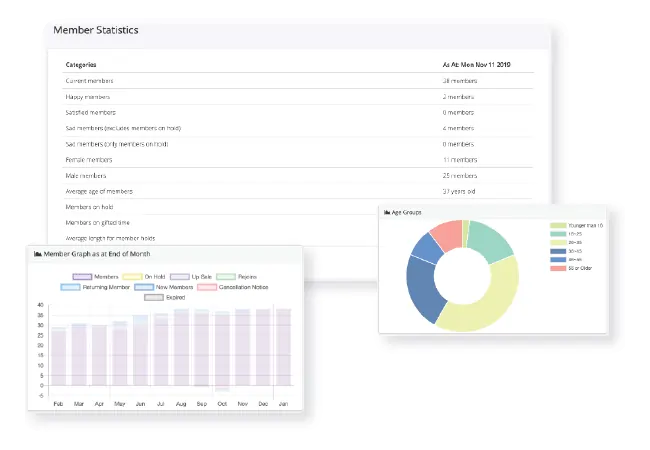 CLUB REPORTING & KPIs
Have important business information right at your fingertips.
Overview business statistics at a glance, or gain insight from detailed reports. Choose from hundreds of preset templates or create your own from scratch with only the details you need.
Highly Customizable Report Templates.
KPI Dashboard.
Have key reports routinely emailed to yourself or other club stakeholders.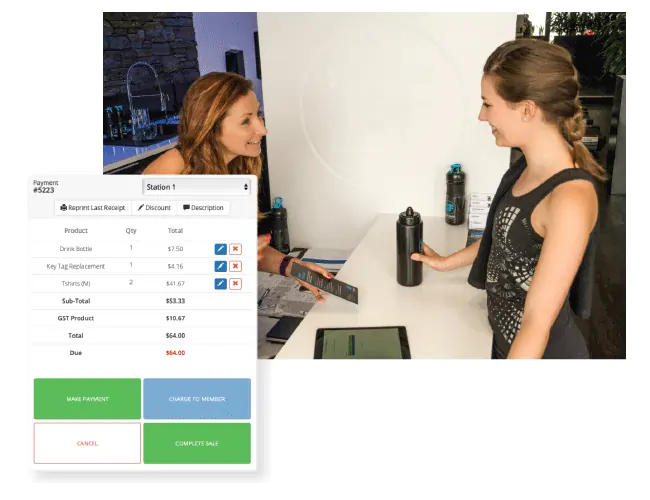 GYM POINT OF SALE & INVENTORY MANAGEMENT
Sell gym merchandise or vouchers at your club or from your website without the stress.
Convert your tablet or computer into a point of sale system, integrating with cash drawers and receipt printers. Track products sold and levels of inventory to make orders and taxes easy.
In-store and online product sales.
Integration with cash drawers and printers.
Grow Your Business, Increase Member Engagement & Build a Stronger Brand Community.
We work closely with gym owners from around the world to create the most effective all-in-1 platform for growing gym membership. Combining sophisticated management technology with proven industry expertise to develop marketing, retention and engagement tools that help gym businesses grow at scale.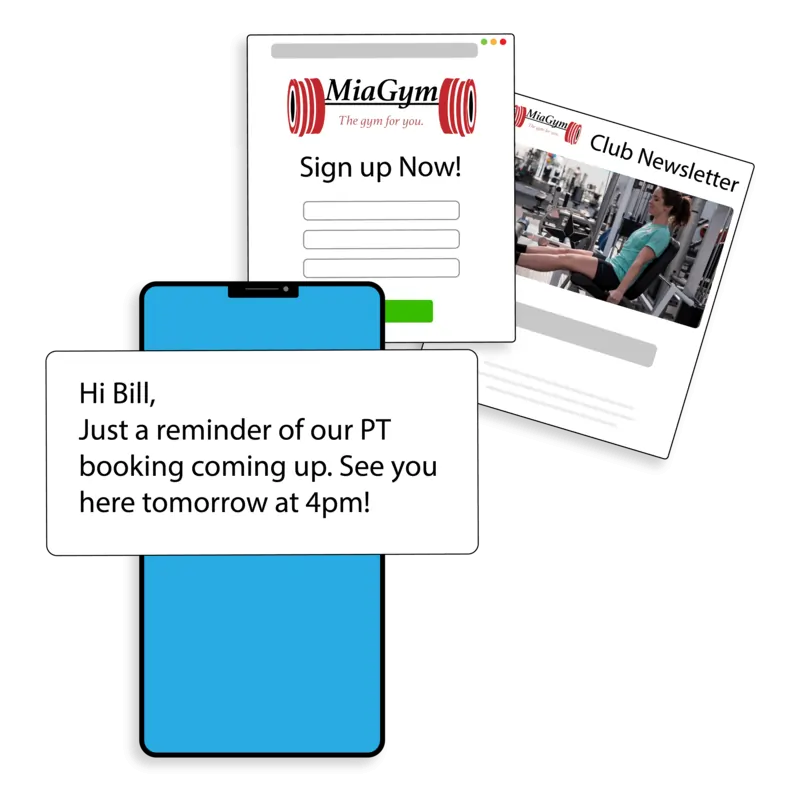 GYM MARKETING & COMMUNICATIONS
Convert more leads, gain gym members and keep them for longer.
Millions of custom tailored email, SMS* and push notification messages are sent from fitness clubs to their members via GymMaster every year.
Automated Communications.
Advanced Audience Segmentation & Targeting.
Lead Prospecting & At-Risk Follow-up Tools.
Mailchimp Integration.
Add ChatGPT Gym Templates Assistant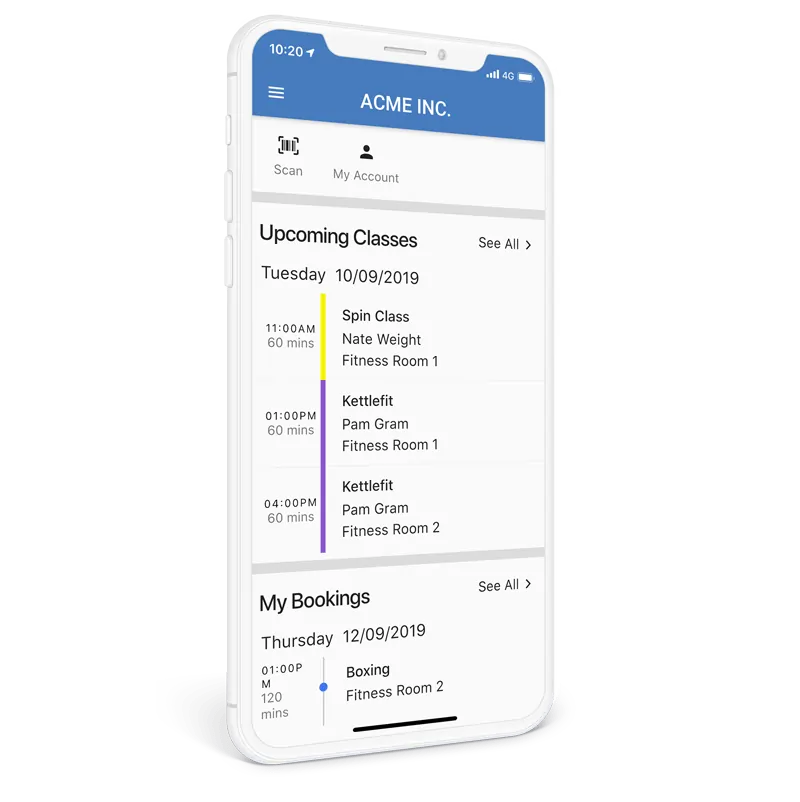 GYM MEMBER APP
An app that boosts class attendance & encourages member visitation.
A dedicated app for members to interact with your gym from anywhere. Make scheduling, paying for, and remembering appointments and classes a breeze.
Manage Bookings, Memberships & Payments.
Send Free Messages To Member's Phones.
Club Challenges and Trainer Assigned Workouts.
Custom Branding Available.
We're Not Just A Gym Software Provider, We're Your Dedicated Digital Business Partner.
Our industry leading support team is just a phone call away.

"I wanted a key fob system that was inexpensive but that also had some of the features of "bigger" players. I found GymMaster and was thrilled that their upfront costs were so much less expensive.
Most importantly, their customer service is extraordinary. I have been an international consultant in the health and fitness industry for 30+ years and I would highly recommend them to anyone. Literally, I am a customer."
Casey, Gym President and Owner.
Free Yourself From The Front Desk
Let GymMaster do the heavy lifting and make your life easier, get your free demo today.