If your fitness business operates multiple facilities there are a few things to consider when choosing the right setup for your gym enterprise software. If you are a new club signing up with GymMaster, or an existing GymMaster client adding additional locations to your system, there are two overall setup options offering their own benefits and drawbacks to your business–these setups are referred to as "Cross-Site" and "Multi-Site".
Both of these gym system setups can allow members to access clubs in multiple locations with their key tags if you use 24/7 gym access control. These setups change how a gym may be configured in GymMaster, how your club data is stored and the day-to-day tasks you and your staff will complete in the running of your business. While your members wouldn't be able to notice the difference whether you operate on a multi-site system or cross-site one, this decision can impact the efficiency of completing business tasks, setting up new clubs and the degree of freedom you have over individual clubs.
Each of these has its own benefits and drawbacks, which is why it's important to take your time and weigh up each of these options carefully to find the best gym management solution for the needs of your enterprise.
What is a Cross-site?
'Cross-Site' is when there is a different member database set up for each club but members with interclub access rights are stored in an overall 'master' list of members which can be utilized by other locations to allow members interclub visitation, without sharing the entire information stored in the member profiles with other clubs. In other words, individual clubs have their own separate gym management system but can still allow members to workout at other clubs alongside their own - when members visit another club, they will only be given basic information and not able to view their entire profile.
Cross-site also can allow headquarters to view an overview of KPIs tracked at the separate clubs. However, this is not detailed in comparison to the multi-site and should be viewed as an overview. The clubs themselves are only able to see their individual reporting for the club, if management requires detailed information on clubs they can have these reports automatically sent in an email, removing the need to have an account and login to check.
Each club effectively having their own GymMaster system gives more freedom to these clubs, allowing them to individualize the system to their specific needs with different setting configurations. For example, if one location in your enterprise was more focussed on classes and bookings, you would be able to configure these easier. They can also individualize communication templates and link to their own website if each club has a different one.
There are drawbacks to this, however. Due to there being separate sites, this means each club will have different logins and member information isn't as readily available as they are stored on their "home" club's database.

What is a Multi-Site?
A multi-site setup refers to one database handling multiple club locations. This means that there is only one setup configuration for GymMaster over all the connected clubs, resulting in less individual control but greater consistency between one club and the next. While they are operating on a single system, separate billing providers may be used across clubs as well as individual point of sale and scheduling systems.
Controlling member access between these clubs is achieved through the use of location-based benefits on their membership. This means a multi-site offers more complete control over members club access to other locations beyond that of a cross-site, such as restricting access of visitation to these clubs by the time of day. 
A multi-site setup allows for a more in-depth analysis of the performance of the business across clubs, with interclub reporting and KPIs. As member profiles are all stored on the one database, staff with appropriate access levels are able to view their full information from any club attached to the multi-site.
In a multi-site, staff and members from all clubs log in to the same gym system, meaning staff with the appropriate access level can view member information from other locations. In this setup, the settings of bookings, classes, and communications are more uniform across clubs as a change in the settings will affect all locations. This is why it's important to find a middle ground if there is some variation to how the clubs are run.
The above outlines the benefits of using a multi-site setup if you are running an enterprise with stricter branding and regulations and more centralized communications, such as a gym franchise. Setting up a new club through a multi-site is much faster than that of a cross-site system, making multi-sites a more scalable solution to consider if you expect to grow rapidly.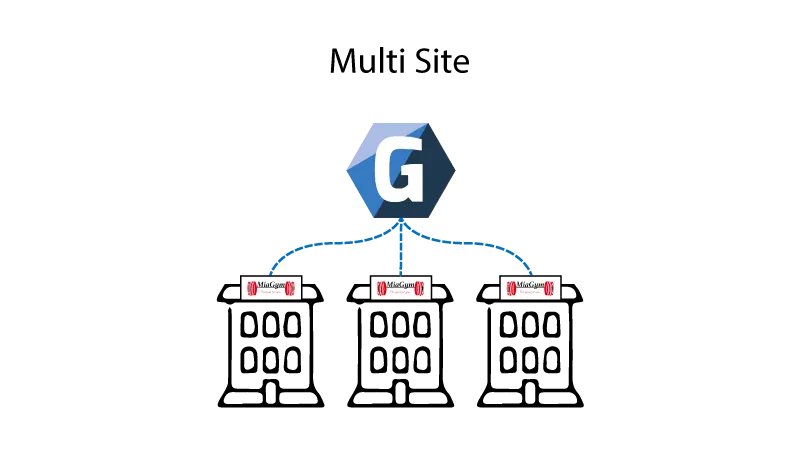 Choosing between Cross-site and Multi-site setups.
If you are signing up to GymMaster with multiple clubs, or adding a new one and are faced with the decision between a cross-site or multi-site setup, the table below is for you.
Multi-site
Cross-site
Prefer to offer a consistent customer experience.  
Allows members to pay at any site easily
Expecting to grow rapidly
Top-down organizational structure
Bookings can be done at any site.

Value individuality & giving clubs flexibility.

Easier for members to pay at home site.

Decentralized organizational structure

Financial information is kept private from other sites.
Looking to grow and scale your brand? Click to learn how gym enterprise software can help you on your way.