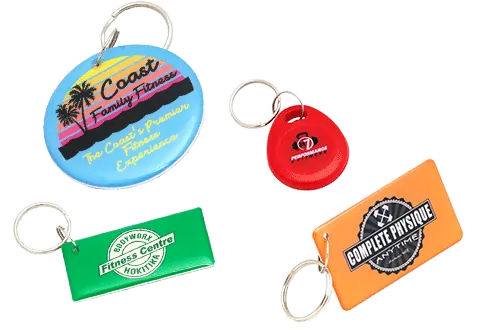 For some businesses, custom printed key fobs can be seen as an unnecessary expense to use with their 24 hour gym access control system, even if the difference in price is minimal when compared to the grand scheme of things. If you are telling yourself "they're only small, people won't even notice" or "I'll get to it eventually, they're just not a priority", then it's my job to get you on-side with this article.
Not only are custom branded key fobs an easy way to get your business in front of more potential member's eyes, but they can pay for themselves in their contributions to your businesses' brand.
Here's 4 reasons you should be using custom printed key fobs to strengthen your brand
Members gain a sense of belonging and importance
The first benefit of offering a custom branded key fob which you might not have considered yet is the opportunity for these to become a sort of badge of honour. A sense of belonging is important for any strong brand community or club, with badging being highlighted as one of the most common community engagement practices (Schau et al., 2009) a top marketing scholar and researcher in the field.
Offering a custom printed key-tag with your logo means these members can experience this sense of belonging by signifying that they are now a part of your club's community, allowing these members to 'wear' the tag with pride, evangelizing your brand to other potential customers.
Custom printed key fobs help with memorability
Custom printed key fobs can form as a reminder for your member to use your club more often, ultimately increasing their engagement and potentially reducing the likelihood of them becoming a sleeping member.
Seeing your businesses' logo on their key fobs can instill a slight sense of guilt and fear of missing out (FOMO) upon members who haven't been to the gym for a while and helps stop them from forgetting to go to the gym. This is also useful as a reminder to historic members who have left your gym, every exposure to your business and it's branding makes these individuals more likely to return to your club over that of another gym (obviously assuming they didn't leave based on a negative experience).
Similarly, epoxy key fobs can be printed with extra details, such as your opening hours, location, contact details or website which can be helpful for members needing more information, wanting to get in touch with you or if they want to book into an upcoming class or with a trainer.
Increased exposure
Think to yourself, what are the things your members will carry around with them all day while out of the house? You probably thought of these items (among others I'm sure) - mobile phone, keys, wallet, or handbag. Having a custom branded key fob with your businesses' logo unobtrusively brings your business into this mix, not only keeping your club top-of-mind for your members, but also exposing their friends and family to your business and opening an opportunity for conversation about your club.
These conversations are a very powerful word of mouth opportunities to share your business with potential members, people trust advice from their friends and these referrals are much more likely to convert into a new member than any other form of advertising your gym will be conducting. Having a plain key fob is much less likely to prompt this conversation, as these will be much less likely to be noticed than one which is custom branded.
Improves brand image
A custom branded key fob can help give your members a perception of care and attention to detail in your business, which can carry across to other perceptions of your business.
For example, a new key fob is one of the first physical touchpoints your member will have with your business - a well designed and attractive fob can set the tone to how they look at other areas of your facility with a positive first impression, essentially changing the lens which they view your business through.
If you are interested in getting custom printed tags for your facility, click here to view more information. Otherwise, follow the below steps to order yours today.
To request custom branded tags for your business, open GymMaster and perform the following steps:
Scroll to the bottom of the page.
Click the link below the feedback form to order key fobs.
Select custom printed tags, then follow the on-screen prompts.