Several club types have risen and gained popularity over the years. Whether leisure-based or health-inspired these clubs allow people to find a community of like-minded individuals. In particular, the International Health Racquet and Sportsclub Association (IHRSA) released a report that 1 in 5 Americans belong to a health club. This statistic means that there are millions of customers that walk into only 40,000 gyms and health clubs. As a business owner of a gym, this statistic could either alarm or excite you - depending on how organized your business is. No matter how excellent you operate your business and no matter how productive your staff is, it is difficult to efficiently handle hundreds or thousands of customers. Given this challenge and considering the growing demand for clubs, one of the best solutions to employ is a club management software. Such a system is intended to help business owners improve the club experience for staff and, most importantly, your customers. Choosing the right gym management system is not an easy task, every business is unique, and it may be difficult to find the best software to fit your needs. When selecting your ideal platform, it's helpful to assemble a list of criteria that you need. Here are 9 points to consider when finding the best gym management software for your business.  
1. Choose whether you should get an on-premise or web-based solution.
The first decision you might have to make is if you need an on-premise or web-based member management software. The difference between the two is that on-premise solutions will need to be installed at your club's location and servers. Meanwhile, web or cloud-based systems are hosted by the gym management software provider. If your needs require an entirely custom solution designed from the ground up to give you complete control over the system and are happy to manage and pay for your own upkeep, then some might suggest considering on-premises software. On the other hand, if you prefer software that is quick to implement, easily updated, and is available anywhere at any time then a cloud-based system is the best option. Few cloud-based providers offer a best-of-both-worlds solution, whereby they offer custom development to personalize the club management system to the individual needs of your business, this is the best option for most businesses.
2. Think of your budget.
Aside from considering what implementation you should get, you also need to think about your budget. The average gym management software price is expected to go up as more and more health and fitness clubs are created. It can cost anywhere from $80 to $500+ per month depending on business size and features offered by each package. Before you settle on a system for your gym, you might want to consider how much financial resources that you're willing to allocate to the technology and what features your business requires.
3. Consider staff management.
A third step to choosing the right club management software is to consider staff management. Staffing is a major part of running any gym business, a task that often consumes a large amount of administration time, and effort. Finding a platform which organizes staff schedules and lead management can make it easier and more effective for your staff to handle they day to day club activities. This helps ensure you and your staff make the most out of each day.
4. Keep in mind how it helps customer flexibility and convenience.
The fourth consideration to make is if the software you want offers flexibility and convenience to your members. Features such as being able to book a class through your app or being able to settle payments virtually are only some of the abilities that you should look for. Automated text messages and emails are also important features as these can help you interact with your members. e.g. booking reminders or congratulating them on their 100th visit - saving staff time and your money. These features reduce administrative strain on you and your staff while simultaneously improving your efforts maintaining customer relationships and increasing customer retention. So, before you buy software, look at the features list, and think about how it will help your gym and its customers.
5. Check if it offers mobile support.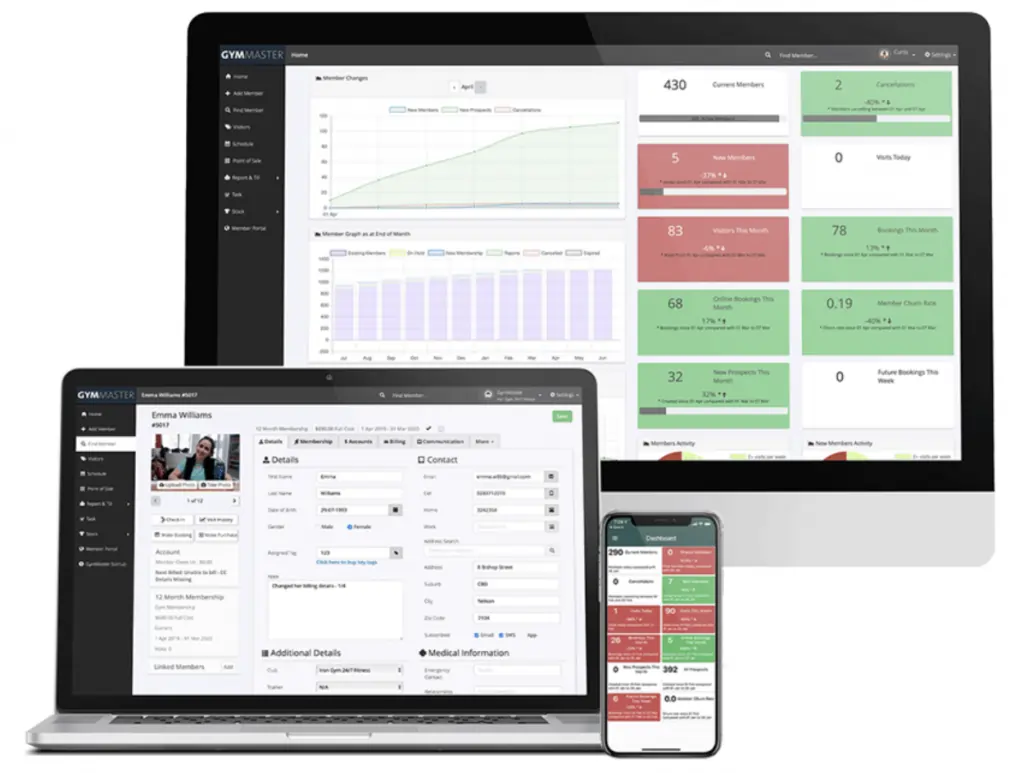 Your fifth step is to determine if the software is responsive across devices and supports use on mobile phones. This feature is more common and beneficial when used from a cloud-based software as it will allow you and your staff to access essential documents, invoices, and other information while on-the-go. Being able to access everything from your phone 24/7gives you additional flexibility when it comes to managing your business. Consider the club information you require or will benefit from having access to on-the-go while choosing your club management solution. 
6. Determine what integrations you need.
Software integrations are another consideration you might want to take into account. Based on which systems your software works with, an integrated platform ensures you'll have an easier time keeping track of everything and improving the experience that your customers receive. For instance, integration with Xero will allow the software to run the gym's accounting books without human intervention. MyWellness integrations will offer a gym management system that keeps your customers interested and driven to stay fit. Facebook and Instagram integrations can help you advertise and track leads. Finally, a system that supports integrations that assist in payroll will remove the need for employing the help of payroll companies for business.
7. Find out if the vendor offers tickets, email, and/or telephone support.
Regardless of whether you choose an on-premise or cloud-hosted solution, it remains possible that you may encounter technical issues preventing the software from running smoothly, or require assistance to learn the best way for using the system at your club. As such, it's also recommended you evaluate the type of support the vendor offers. Email or ticket based support make it easy to connect with support staff, especially if they are an international provider operating outside of your usual business hours. Finally, phone support gives you a channel wherein you can communicate with your vendor as fast as possible, which is ideal if you ever need urgent assistance with your system.  
8. Go through the features and see if it can give insight.
One of the benefits of club management systems is generating analytics and reports that will allow you to understand what's been happening within your business. It takes the data you have allowed the platform to access and utilizes it to create reports. A membership management software can help you understand what classes are selling, what options your customer prefer, and what parts of the gym aren't profitable. Some platforms also offer the ability to prompt your customers to provide feedback. The software you choose should have the ability to provide insight so that you can make the most out of the resources you allocated for management technology.  
9. Make sure that any data you might input in the software will be secure and protected.
Given how much of your company's data lives in the software you choose, the right one should have proper security measures implemented. Such features could include being able to back up your data, control access permissions, and determine what the vendor can see. Gym management systems use data such as your customer's email or phone number, and it sees which gym members paid for what, attended which classes, and, depending on their app features, their interactions with your club outside of the gym. For the safety of your company and it's customers, choose a software solution that is reliable and secure to reassure yourself and customers that this data is safe.    
The Future of Gym Operations
As technology continues to advance, the future seems to be primarily digital. Based on the list of the things you need to look out for when you're looking for the right club management software, technology can give you the ability to control every aspect of your business anytime, anywhere. There are a lot of considerations to think about and even more decisions to make, but if you want to be part of a technologically-driven future, then you'll have to brave the process. As such, our final tip to help you choose the right system is to always keep the well-being of your gym, your staff, and your customers in mind.