Shared memberships allow one membership to be shared between multiple members. For example, this means your club may charge a set rate for a family to join without setting up individual memberships and allowing multiple secondary members to gain its benefits. If your club has been using shared memberships, there has recently been a few changes made to how GymMaster handles these. Don't worry, you aren't going to have to make any adjustments yourself - these changes will be retroactively applied to the accounts you have already set up, however it's important to be aware of these changes and how they may benefit your members and club.
Changes Made
Accessing Shared Memberships
Shared memberships have been separated from linked memberships, you can now view and access shared memberships via the new "Shared Memberships" box on the left of the members page and also by clicking the "More" drop-down and selecting "Shared Memberships".

Note: This is only visible if the member currently has a shared membership. To set one up, click: Settings -> Membership Types -> Edit Membership -> Shared Membership. Then apply it to your member.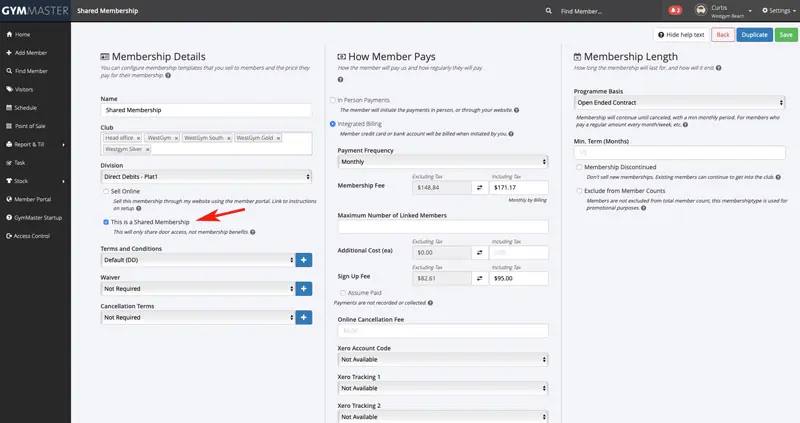 Secondary Members now have the same benefits & restrictions as the primary members
Previously, the only shared benefit among members connected to a shared membership were shared door access. Now all benefits are shared between members, meaning.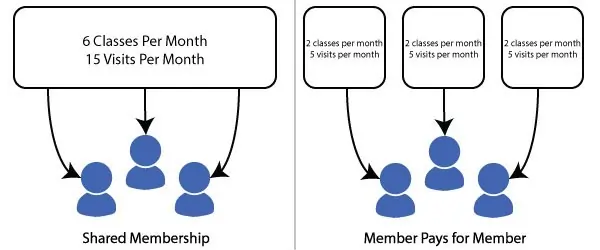 Restrictions on a membership (i.e. 6 classes per month, 15 visits a week) are also now shared across all members connected to the membership - that is, 6 classes in total per month, 15 visits in total per month for all members to use. For example, if one of the members in the figure above decided to visit the gym 12 times in a month, there will only be 3 visits left for the remaining two. In contrast, the benefits of "Member pays for member" are not shared, so each member has their own visits to use.  
Secondary Members will now be tracked in your Current Member Reports
Shared membership secondary members will now show up in the various current member reports, including the dashboard widget and KPI report if GymMaster's 'count shared membership' setting is set to true (it's default value).

Find this setting here: Settings -> Advanced Configuration -> Membership  
Shared Membership Dashboard Widget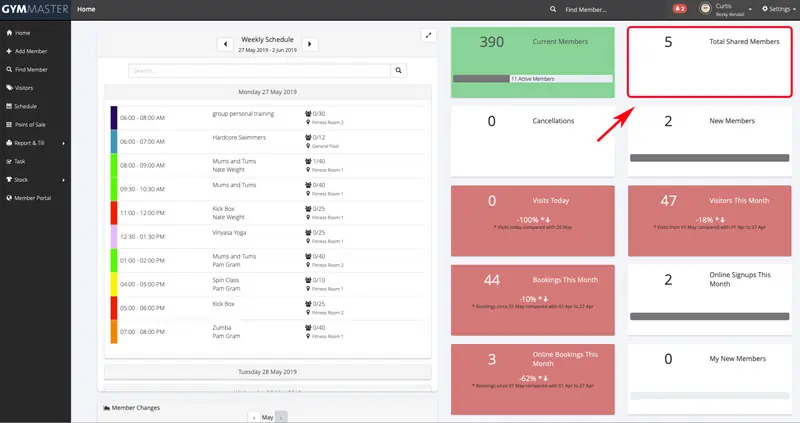 A new dashboard widget has been added so you can track your shared memberships at a glance. To add this to your dashboard you follow these steps:
Click Customize Dashboard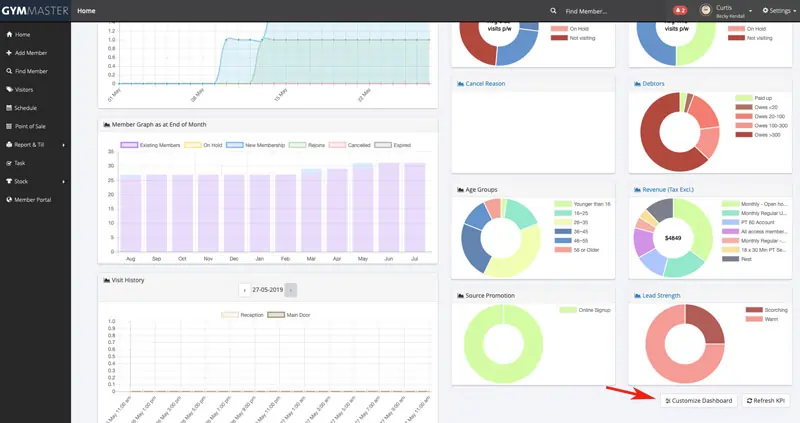 Enable Total Shared Memberships

Members Can Share Multiple Memberships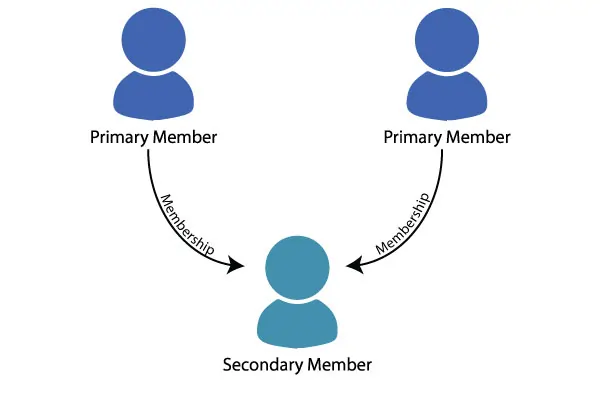 Members can now share multiple memberships. That is, if a secondary account has two primary (or parent) accounts on individual memberships, each primary member can individually share their membership with the secondary member. For example if primary member A has pool access benefits and primary member B has boxing class benefits a secondary member of both of these members will be able to attend boxing class and use the swimming pool.
Shared Memberships Now Count Towards Membership Prerequisites
Secondary members can now purchase individual memberships requiring a membership from a specific division if the division requirement is met by the shared membership. For example: If Sarah, a secondary member, doesn't have a boxing membership she typically wouldn't be able to purchase the boxing boot-camp add on pack. However, as she is a secondary member of Bill who has a boxing membership, she is now able to purchase the boxing boot-camp add on pack, as the shared membership now satisfies the "boxing" division requirements.
Variable Prices for Additional Secondary Members
GymMaster now supports variable prices for additional secondary members. This means the system now supports structures like the following by manually adjusting the price:
$100 for a shared membership - Primary
$50 for first secondary member - Secondary
$30 for second secondary member - Secondary
$0 for third secondary member - Secondary
If you have any questions with regards to these changes please get in touch with help@gymmaster.com and the support team will help you out.