If you have been involved with marketing or customer communications over recent years, there's a good chance you may have heard of Mailchimp. Mailchimp is a widely used online platform allowing businesses to create, send, automate and track the performance of their email marketing campaigns that has also recently moved into the field of surveys and website creation tools.
Mailchimp users import lists of emails into the system which can be used for sending bulk emails. The system, similar to GymMaster, allows for the dynamic addition of information into the email such as their name to make content more relevant and effective when sent to the audience. While the GymMaster system does offer much of this functionality, if you have been using the Mailchimp platform for some time as part of your marketing routine, or are looking for other ways to visually build emails and newsletters for your gym, you may enjoy using Mailchimp.
This is why GymMaster now gives the option for clients to link both systems together to help you find the best workflow for your club, adding another tool to your marketing repertoire so you can grow your business and get more gym members your way.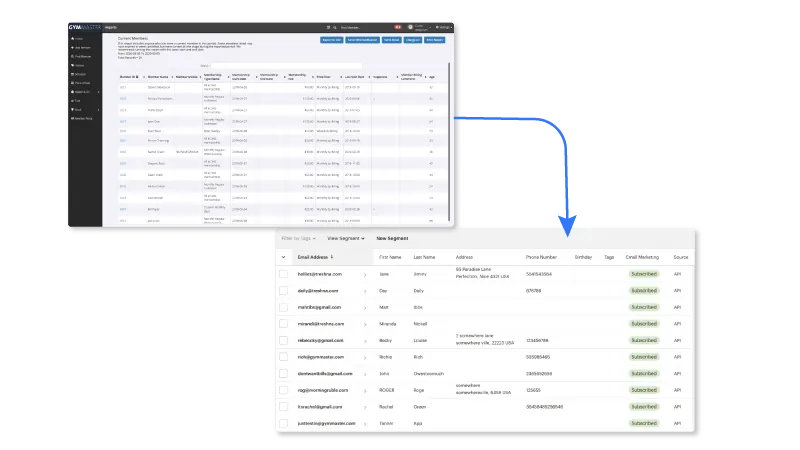 How does Mailchimp integrate with GymMaster?
With the new GymMaster-Mailchimp integration, members can now be added to lists or interest groups within Mailchimp automatically, ready to send targeted emails or newsletters. Member information is pulled in to Mailchimp from a given report within GymMaster (for example, the Current Members report). The details will be pulled from the member's profile, information such as their first and last names, phone number, birthday as well as their email address and email subscription status (i.e. whether or not they have unsubscribed from receiving your communications).
Numerous email lists can be created, from a more generalized list of "Current members" to a specific list targeting only those members who have specific interest groups, based upon membership divisions or membership types such as "Current Members - Swimming Memberships" which could be used to send targeted emails to only members who have privileges to use the swimming pools.
These lists will be automatically updated upon the creation of a member within GymMaster, regularly every 4 hours or you can refresh the lists manually if you need to. This means you don't have to worry about lists becoming out-of-sync and having to make changes in both GymMaster and Mailchimp when a member updates their contact information, membership status or unsubscribes from communications.
Want to set up the Mailchimp integration with GymMaster to send your gym emails? Click here to learn how.