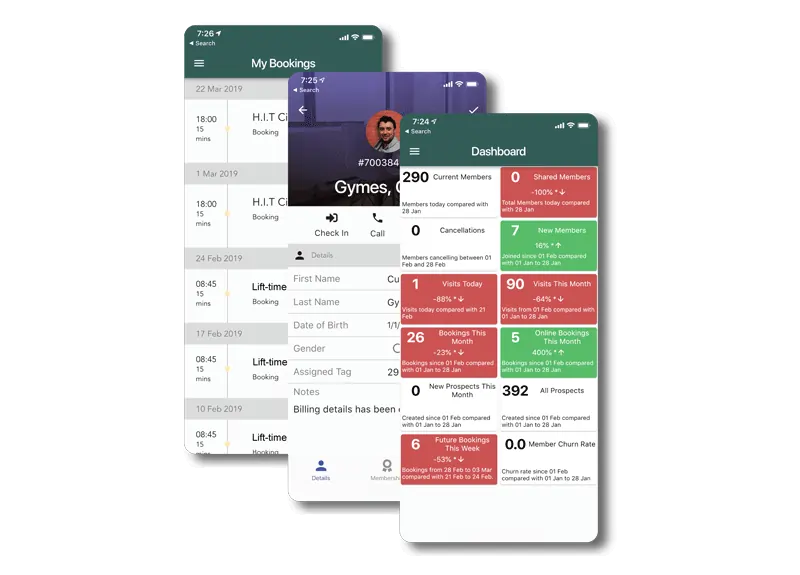 Now its easier than ever to run the day to day tasks of your facility. The GymMaster Staff app allows you to not only view all of your important business and member information, but also control many aspects of your club's administrative tasks wherever you may be.
Key Features
View Key Performance Indicators (KPIs)
From your dashboard you can view all of your important club statistics in real-time. From membership numbers, today's visitors, bookings and any other KPIs you have set to display on your desktop dashboard.
Access Member's Profiles
View your entire members database from your mobile device. View and edit member details, send SMS and Emails, make calls and even check them in to your club all from the GymMaster Staff App.
View Club Visitors in Real Time
GymMaster Staff allows you to see people checking in to your club in real time. This means you can see who have been, or currently are working out at your facility at any given time - all from the palm of your hand.
Remote Access Control
If your gym uses GymMaster to control the doors of your facility you can now easily open the doors to members or staff with a press of a button wherever you may be.
View Bookings and Classes
Easily manage your schedule and plan your day with viewable access to your trainer bookings and classes timetable.
View and Execute your Tasks
Send pre-written email or SMS templates to individual members or a list of recipients with the push of a button.
Scan Access Control Tags (Android Only)
Scan access control tags using your mobile device's in-built RFID reader, allowing your staff to view member profiles with one tap of their phone.
One Click GymMaster Online Login
Easily log in to your full www.gymmasteronline.com panel within the GymMaster Staff app.
Your staff can download the app from either the Google Play Store, or Apple App Store.
For more details on the setup of the app, or if you are interested in a branded version of the app (at an additional fee) feel free to get in touch with the team: help@gymmaster.com