With countries around the world beginning to open up their economies again many are taking measures to reduce the possibility of another wave of COVID-19 cases. One common measure for this, if the country has managed to reduce cases to a manageable number is through the use of contact tracing. Contact tracing at your gym is essentially the process of reaching out to all potential contacts of a member who has been identified as a positive COVID-19 case to inform them of the possibility they may be infected, have them tested and isolate them to prevent further spread of the virus.
Having this information available for your fitness club is highly valuable, as avoiding a cluster forming at your club is not only important for the health and safety of members, staff and their families–but can also help secure your brand image against possible damage should an outbreak occur at your gym.
Thankfully, as GymMaster clients, facilitating easy contact tracing has been made easy through the use of gym access control key tags and/or QR code check-in functionality. This automatically allows you to track visitation of every member who enters your doors without having to roll out a new contact tracing software or risk further transmission of a virus by asking members to sign in manually upon entry.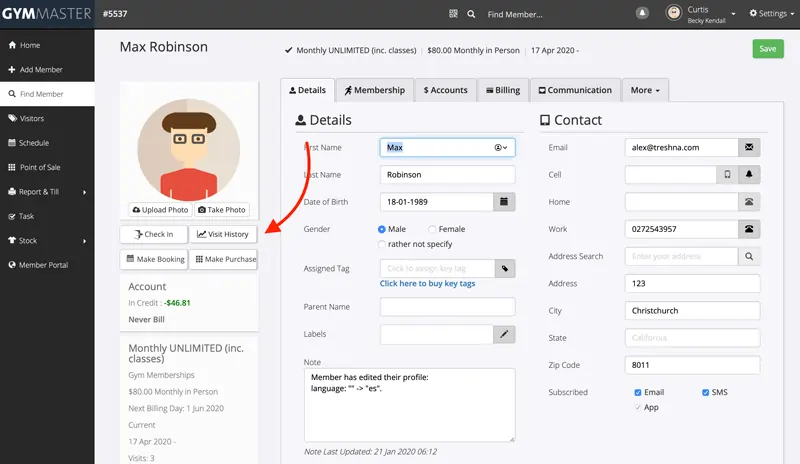 First, you will need to find all the times that the member visited the club, to do so, click "Find member" and search the member's name.
From here, click "Visitation history", this will show you all the times they visited the club.
If you have already implemented these initiatives into your club, all you need to do to facilitate contact tracing should the need arise or you be directed to provide this information by authorities is run a visitation report. To do so, click "Visitors" in GymMaster.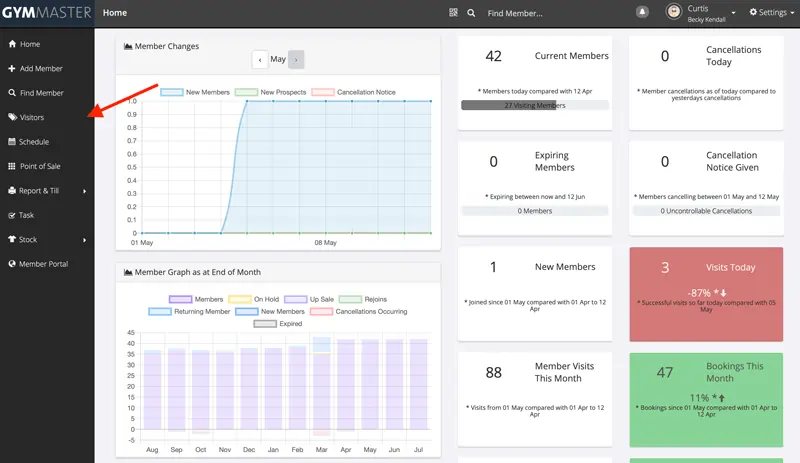 From here you can see all the visitors to your club within the given time period. You can adjust the time period to suit the times that the member visited your club and see everyone who may have come into contact with them during this time. Clicking "Print" allows you to print off this list to give to authorities should they want to follow up with them.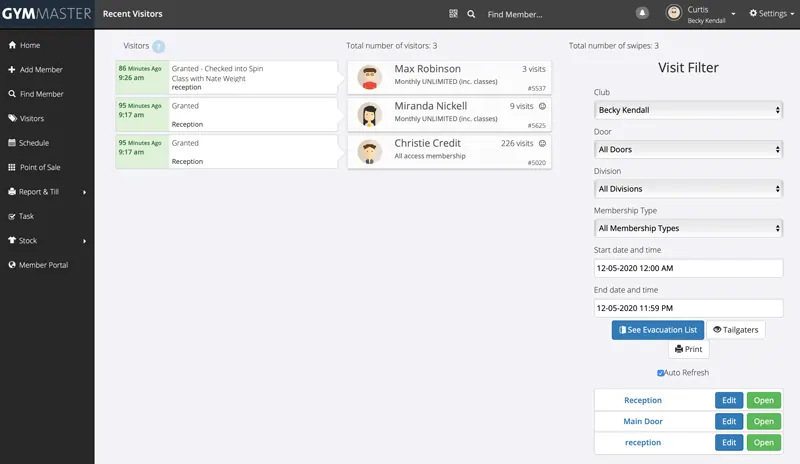 You could also send a bulk gym email, sms or push notification out to these members saying they may have come in to contact with a suspected case and they may be contacted by the health department to get tested. This can make the member aware of their infection risk sooner and prevent them from spreading the disease should they be contagious already. To reach clients in a timely manner (which is important for this scenario), we recommend using SMS or push notifications
As all clients should already know, the GymMaster access control system also allows a plethora of configuration options allowing you to places rules and restrictions on who can visit your club and when. This can also be used to limit the number of members who can enter your club, which is another powerful approach against COVID-19 by facilitating physical distancing. Click here for information on how to do this.