Lincoln University Gym Membership and Administration Manager Mark Smith remembers when he spent hours setting up memberships and direct debits. And the days of doing everything manually weren't that long ago for Mark because LU Gym only digitised their systems in March 2021.
Mark recalls, "We'd used the same management system for over 14 years and everything was manual. So, members couldn't join online. They had to fill out a paper form, then we had to manually input it into the system. And the other big job was setting up direct debits. It wasn't automatic. I set up direct debits manually and it took me at least an hour a day processing each new member one by one. There was a lot of paperwork."
"Upgrading gave us a chance to look at the gym management software options out there. Our University IT team did some research and gave us a list of options. GymMaster was on the list so we did their trial demo, and it looked great. Then we went to visit a gym in Rangiora who use GymMaster and they spoke highly of it, so we signed up."
"GymMaster has made our life so much easier. Being able to join and sign up for classes online gives our members more control. And it's more fool proof; there are far fewer opportunities for our team to make mistakes entering details. I'd never used an online system before and I was a bit hesitant about going online. But GymMaster has made the LU Gym experience much more professional. The gym's operating a lot better now people can join online, and we've a computer set up in the foyer so people can tour the gym then join up straight away."
Changing to a new gym management system after 14 years
Switching to a new system can be a big deal. Mark explains how the changeover went for them. "It was a big thing for us to change after being with one system for so long. GymMaster got us started by guiding us through the set up stage by stage, and we had online training and support. Then I worked away behind the scenes, asking lots of questions along the way."
"It was a bit of work setting GymMaster up, we had a lot of details to enter and many members to migrate. The first few months were the hardest, getting the new system live and ready to go. But as soon as everything was set up, it was great. I just tweak it every now and again."
"My main worry was migrating all the member data and direct debits from our old system into GymMaster, but it all went smoothly. It was a big project, but our IT team managed that with GymMaster's support. Then I did random checks on member records to make sure all the data had been transferred correctly And it all looked tickety boo, so I crossed my fingers, said, geez, I hope it works, and we went live. And it did work, and all the payments were correct."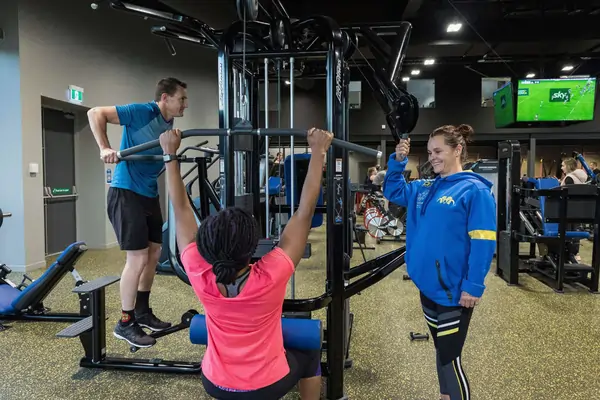 "Once we had things set up, GymMaster came out and did a training seminar with the reception staff here. With a new system, there's always lots of things to learn. But GymMaster have been fantastic. The support has been amazing from day one. I just send an inquiry and a screenshot, and the team are really good at getting back to us fast."
"GymMaster helped during the Covid lockdown when we had to put mass holds on memberships. I didn't know the process, so I rang support and they talked me through it and it was great. I can't speak more highly of GymMaster and the team love it. We made the right call with GymMaster."
From admin support to controlling access to the gym
Automated membership isn't the only thing the LU Gym team are finding handy. Mark says, "Before GymMaster booking classes was all manual. People had to ring up and we had to write their booking in the diary. Now they book online and get an email notification. The member app is really good and most of the members use the app for bookings now. When they join up, they get a welcome email and they download the app and manage their account using that."
"We also have a GymMaster staff app. I can sit at home, pull out my phone and know exactly how many members we've got, who's joined this week, and how much we've made. We can generate graphs for reports, and we know where things are at a glance."
"GymMaster has streamlined admin and communicating with members. We can email members with updates. When members join, they get a welcome email with a copy of the terms and conditions they've agreed to. GymMaster makes it easy to follow up on payments. I get a weekly revenue report showing any payment dishonours, so we can follow those up. And we can put a stop on member key fobs, so if anyone owes money, they can't get through the gate."
"We installed two sets of gates as part of the upgrade, and members have a GymMaster key fob. Before we had those gates, it was a mission to manage access. We had a card scanner on the counter, and people were supposed to scan in, but quite often they just walked through."
"Now it's easy to control access and set access restrictions. People can take out different types of membership, so say they just have squash membership, their key fob just opens the gate to the squash courts and not the gate to the gym. That was helpful during Covid when we had restrictions because of social distancing, and everyone had to book for contact tracing. So, with GymMaster, you can set limits for how many people you want in each class and you can track visits and set limits for how many people are allowed in the gym at any one time."
Mark says, "If you're thinking of upgrading your gym management software I can't recommend GymMaster too highly. I'm more than happy to talk to anyone about our experiences because it's a big decision changing to a new system. If anyone does want to ring me, or even come out and visit you're welcome, because that's what we did when we were considering GymMaster and it always pays to have a quick look."
"But it's not till you start using GymMaster, that you appreciate how much it can do for you. We're really happy with it. It's exceeded our expectations because it has everything we need plus more, and the support's been amazing from day one."
GymMaster is packed with features to help you run your gym easier, from member management to Mark's favourite apps.