GymMaster Installation Instructions for Windows
If you have already installed the demonstration version, GymMaster Lite:
click here to skip to 'Update to full version'
If you are just after the desktop RFID scanner and popup utility unzip
this file
to c:\gymmaster
Download the following three files:
Install GymMaster Lite
Ensure you have a working internet connection. Many components are installed or dynamically updated via the internet.
Download and run GymMaster_Lite_Installer_4.3.1.exe
This will install the base components and the initial database.
Start the GymMaster Lite Installer and select 'Next'

Choose components:
By default, 'Network Server' is selected. This installation option will give you the widest range of features. Click 'Next':
Contact GymMaster support for further information.

Select the date format which you prefer:

GymMaster will install

When completed, select 'Finish'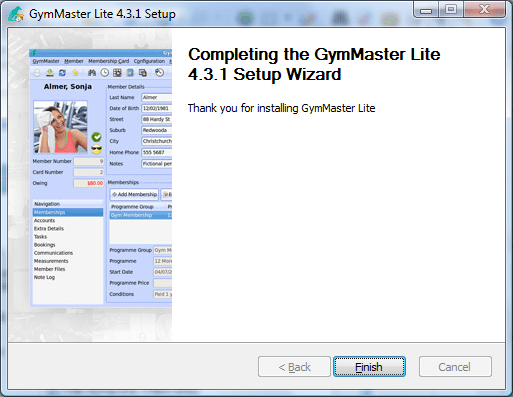 Update to full version
You now have the demonstration version of GymMaster. This version has a demonstration database, no time-limits of usage, but some limited features and a limited number of members. Now, update from demonstration version to full GymMaster Download and run the full version of GymMaster
GymMaster_setup.exe

Choose components
Default is 'everything selected'. Most users will not need to change this. Click 'Next':

Type in the registration details as supplied by Treshna. Click 'Install'

GymMaster will install and update automatically. Click 'Finish' when completed

First time operation:
Select whether to configure any already-installed POS printer
This can be done at a later stage. You can skip over this if you wish.
Ensure the printer driver is already fully installed so that the printer shows up in Control Panel -> Printers, and can print a test-page from there.
Contact GymMaster support for further information.

GymMaster will finalise the update, and open onto the Dashboard:

If you have 24-hour access, We recommend a manual update cycle. Select Settings -> Update-drop-down -> Select 'Never Auto Upgrade':

This completes the setup of GymMaster